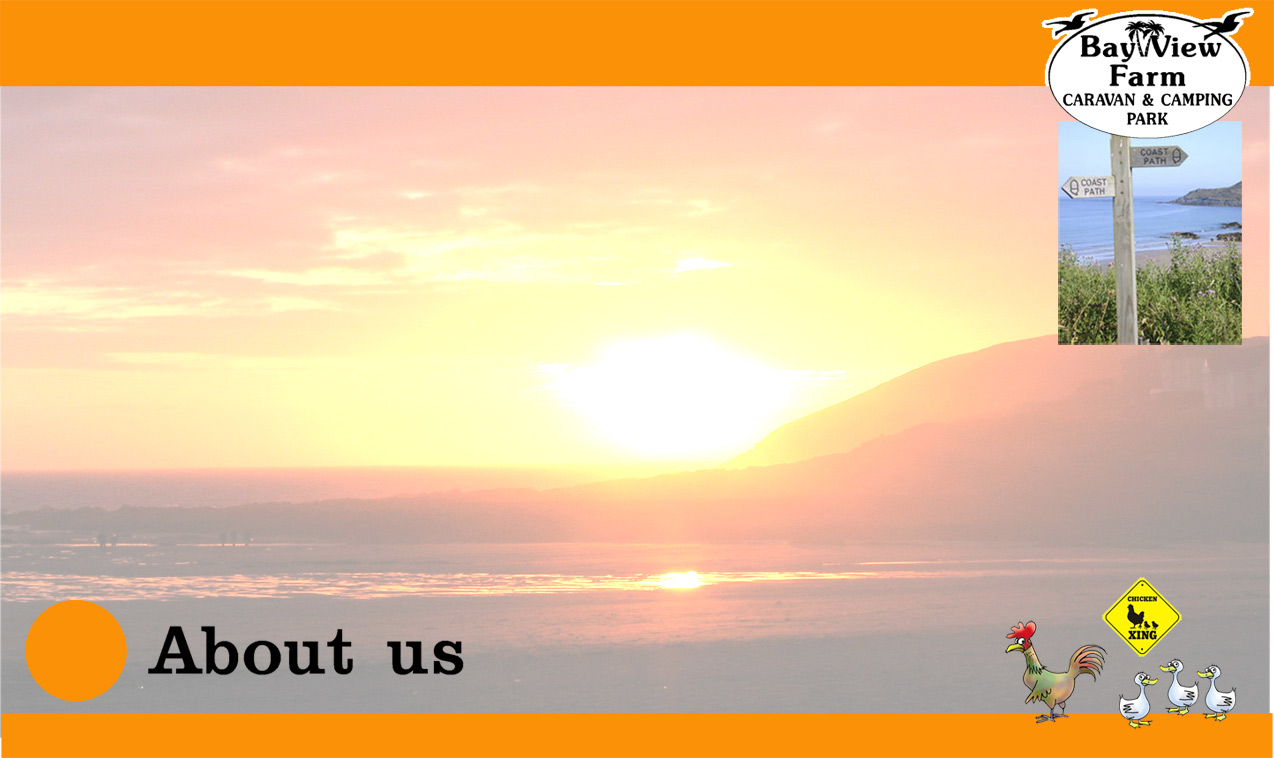 Welcome to BAY VIEW FARM Caravan & Camping Park, EX33 1PN APPROVED CAMPING CLUB SITE
Thank you for your interest in BAY VIEW FARM Caravan & Camping Park, we hope we can arrange your holiday and make it a memorable one.

We are not a large Holiday Park, but we do guarantee that personal touch as our many regular visitors have already experienced over many years. BAY VIEW FARM has been owned and operated by the same family for many years, and is designed to cater for families and
those who enjoy a quiet holiday.

NORTH DEVON, although known to many families is still being discovered for its outstanding beauty and superb sandy beaches of Croyde, Saunton, Putsborough and Woolacombe all within easy reach of the farm, also just down the road golfers have a championship course at Saunton.
The village of Croyde is full of olde world charm with a stream winding its way between old thatched cottages, a village store, post office and gift shop, there is a choice of interesting pubs and restaurants.

Croyde Beach is a sandy beach with many rock pools for the children to explore and splash about in. The sea is excellent for surfing, windsurfing and fishing. All within a few minutes walking distance of our farm.

WALKS AROUND CROYDE, these are numerous, from an evening stroll to a really long hike affording beautiful panoramic views of the Devon countryside which rolls down to the sandy beaches washed by the Altantic breakers. Two walks must be mentioned, 'The Downs' and
'Baggy Point', both of which are well known but might be missed by visitors less conversant with the area.

'The Downs', are a course of paths leading in all directions. Take the path (sign posted) and this steadily climbs through hedges and trees forming an archway overhead until you reach the wide open spaces on the Downs. Here the grassy slopes invite you to sit and gaze over
the wide expanse of fields and woods to Georgeham and Woolacombe and the beaches and the Atlantic Ocean as far as Lundy Island.

'Baggy Point', is a rocky unspoiled headland separating Croyde and Putsborough and is part of some 250 acres belonging to the National Trust.
The visitor will be able to find many points of interest on Baggy cliff walk where they will observe wild life and flowers in abundance and the occasional seal or dolphin in the sea below.

CAMPING PARK, consisting of about 10 acres of grass land nestling in the beautiful valley of Croyde, surrounded by agricultural fields and Downs. The sun setting beyond Lundy Island is an extra treat. Plenty of space and grass for the ideal family holiday where children can play in safety.

Modern toilet facilities are free and include mains water, flush toilets, hot showers, H & C wash basins, electric razor points and an Elsan disposal point. Dish washing facilities, laundry room and electric hook ups. Hardstanding, waste water points for Touring caravans & wetsuit showers.

Resting your car and pitching your tent or touring van a holiday in our static caravans - if you value the simple pleasure of resting in the beautiful countryside, rather than on-site bars and entertainment, BAY VIEW FARM is the place for you. With a bus stop right outside our entrance. On sale daily in High season only from our Reception is , Bread, Milk, Eggs etc. Calor and Camping Gas, also Freezer Pack service if required. Also hot food take away and children's play area on site. Mobile phone recharging.

We aim to help you in any way we can for a friendly holiday.
We shall look forward to welcoming you,

Yours sincerely
George and Janet Hakin with three sons, Jonathan, Neill & Craig