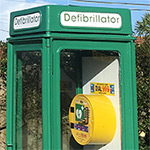 We would like to say well done and a big thank you to all our customers - old & new.
With help from the owners, staff and donations from ice-pack freezing and device
charging we have been able to purchase and install our own automatic defibrillator.



Merry Christmas and a Happy Healthy new year to everyone.